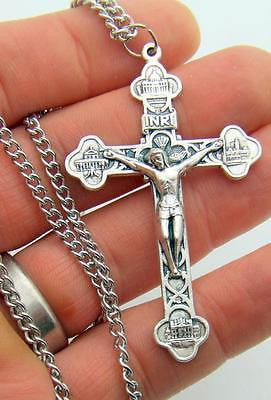 MRT Four Basilicas Limited Edition Italian Pectoral Crucifix Cross & Chain Gift
MRT Four Basilicas Limited Edition Italian Pectoral Crucifix Cross & Chain Gift
MRT is proud to present this limited edition Crucifix with only 50 of these in total!!


My Religious Treasures (MRT) - Religious Pieces at Affordable Prices

Welcome to My Religious Treasures (MRT)!!  My product lines include both gold or silver plate and oxidized medals that are second to none in quality, weight, detail and price!  I have traveled throughout Europe to bring home only the best pieces high in quality and detail.  I have seen and purchased elsewhere, but the MRT lines only have the precise attention to detail on each piece.  I can guarantee you this because I hand select only the best pieces to sell to you, my customer.

My pieces make the perfect additions to your rosary and jewelry making needs, and because I get the best pricing on these finds, I pass the savings on to you! 

You can buy in confidence knowing that each purchase is backed by my customer satisfaction guarantee!  If you are not happy with your purchase, I will work with you to make sure you have only the best experience with MRT.

From my family to yours, thank you for visiting My Religious Treasures - and God Bless!
RC470