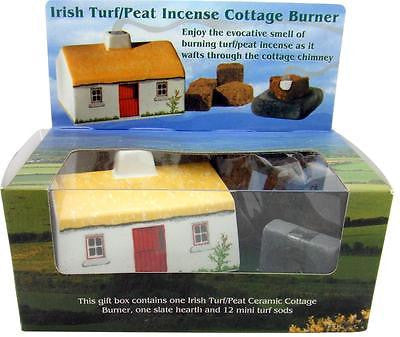 Irish Turf Peat Incense Ceramic Cottage Burner + Slate Hearth Gift From Ireland
Irish Turf Peat Incense Ceramic Cottage Burner + Slate Hearth Gift From Ireland



This box contains one Irish Turf/Peat Ceramic Cottage Burner, one slate hearth and 12 mini turf incense sods and a natural stone burner.

Enjoy the evocative smell of an open turf fire by burning a turf incense sod on the slate hearth, cover it with the cottage burner and watch the smoke waft through the chimney.
Here is an oppertunity to own your own ceramic Irish cottage, a keepsake for life. When burning your turf incense sods you can watch the smoke waft through the cottage chimney and be reminded of bygone days: when Irish thatched cottages with blackened chimneys from the open turf fire were the homes of all Irish people. The turf/peat used in this product is genuine reconstituted turf/peat from the boglands of Ireland. The smell is totally natural and authentic  - no fragrances are added.
"Leave me in a Irish bog where the curlews softly call The Woodcock in the heather bank keeps watch and ward for all. Let there be a cabin warmn with a turf fire vurning neat and smoke ascendign to the sky and the smell of Irish peat" - Paddy O'Brien
Let the ambience if the aroma rekindle for you the romance and nostalgia of Ireland.




Thank you so much for taking the time to visit our auction, I hope you feel confident in our return policy and customer service. We ship everyday and do whatever it takes to earn 5 stars on our feedback. This is one of our several eBay stores, we had over 35,000 Successful online transactions last year. We have expanded in to other product lines with the same customer service rules in place. Please see our other auctions , we have some great things and many of them are just one of a kind!
| | |
| --- | --- |
| | |


---
We Also Recommend