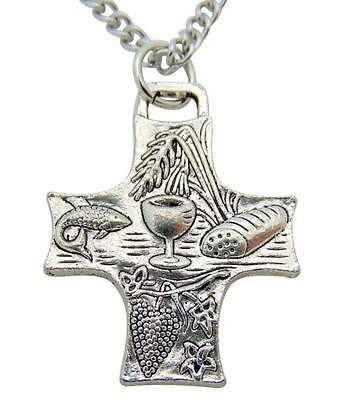 First Communion Bread of Life Cross Pendant 1 1/4" Gift w 24" Stainless Chain
First Communion Bread of Life Cross Pendant
If you are looking for a thoughtful and affordable First Holy Communion gift, this cross is an excellent choice! This unique 1 ¼ inch cross includes a 24 inch long endless chain and is decorated with important First Communion symbols. The top shows shafts of wheat, the main ingredient in bread, which represents Jesus, the Bread of Life. The right side shows a loaf of bread, a symbol of the Last Supper when Jesus instructed the apostles to "Do this in memory of me". The bottom has grapes on a vine, which represents the wine used by Jesus at the Last Supper. The left side shows a fish, a symbol of early Christians and as in the miracle of the loaves and fishes, a symbol of the Eucharist. The center features a chalice, a symbol of the blood of Jesus and one of the  main elements of the Eucharist.
You can buy in confidence knowing that each purchase is backed by my customer satisfaction guarantee!  If you are not happy with your purchase, I will work with you to make sure you have only the best experience with us.
From my family to yours, thank you for visiting!
---
We Also Recommend