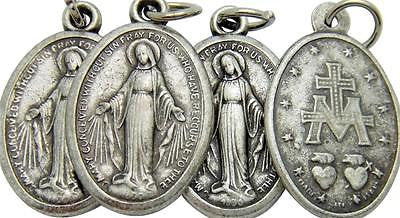 Catholic Miraculous Mary Holy Medal Gift Silver Tone Metal 3/4" Italy, Bulk Pack
The front of the Miraculous Medal depicts Mary with her hands open, full of light, as the messenger of God's love. She stands on the globe, Queen of Heaven and Earth. Rays of light beam out from Mary's hands, which symbolizing the graces shed upon those who ask for them. Around the oval, the words "O Mary, conceived without sin, pray for us who have recourse to thee."
On the reverse side the Cross and the letter M symbolize the close relationship of Mary to the suffering, passion, and death of her Son, Jesus. A heart is depicted on each side of the Cross, the one crowned with thorns is the Sacred Heart of Jesus and the one pierced by a sword is the Immaculate Heart of Mary. Encircling these symbols are twelve stars, which signify the twelve apostles, who represent the entire Church as it surrounds Mary.
---
We Also Recommend